Our full-service construction team works with other developers and businesses to offer Construction Management Services, Design Build/Turnkey, Project Management and Interior & Renovation Services. Our success lies in our experience as fellow developers who use a team-based approach to work with owners and consultants to form a crystal clear understanding of their overall vision and bottom line.
Vancouver
Located on Venables Street near Clark Drive, 1331 Venables is a 5,000 square foot retail space with loading bay. The design is highly functional and flexible, permitting the building to be used as two separate 2,500 square foot spaces and allows local businesses to develop and grow comfortably without ever having to move. A&B Tools are long-time tenants in this space and we are pleased to have contributed to making structures, ways and spaces for neighbours to become neighbourly again.
Burnaby
Located in South Burnaby, Organic Early Learning is a 14,000 square foot daycare centre. The inside layout offers a semi-open concept, creating separate but integrated spaces for children of diverse ages to learn and play. Features include an exposed ceiling, fenced in outdoor play areas with rubber tiles, and modern offices for educators using safe and sustainable materials. We know that great neighbourhoods need more than just great buildings and we are proud to have built these additional childcare spaces essential to the community.
Port Coquitlam
Haven is a limited collection of 45 townhomes is inspired by East Coast architecture and feature spacious layouts fit for your family. Located on a protected greenbelt, Haven is surrounded by nature with countless parks and trails, as well as urban amenities, just minutes from your front door.
North Vancouver
Edgemont Walk is a limited collection of three-level, three-bedroom townhomes designed for modern livability while enjoying a fantastic location in the heart of the North Shore's Edgemont Village.
Queen Elizabeth Park
The cityhomes, apartments and penthouses of Eastpark are inspired by mid-century modern design. Located in the Little Mountain neighbourhood and incredibly close to Queen Elizabeth Park, Eastpark offers buyers real homes in a real neighbourhood.
East Vancouver
Mason is a limited collection of character-filled 2 and 3-bedroom cityhomes and townhomes with roof decks in the heart of Trout Lake –– one of the friendliest neighbourhoods in Metro Vancouver.
East Vancouver
Cordovan offers cityhomes and one-bedroom flats in Strathcona, designed as a modern take on industrial conversion with fresh, bright interiors with a distinctly urban feel.
Burnaby
TowneWalk in Burnaby is an intimate community of one and two-storey homes featuring traditionally inspired brick and shingle architecture along with a lushly landscaped courtyard.
Completed
John Valk BMW + Ducati
Vancouver
Our construction management team worked with the dealership and their architect to create a showroom that showed off their sleek product. Features include high ceilings, exposed beams and expansive windows to allow for ample natural light.
Completed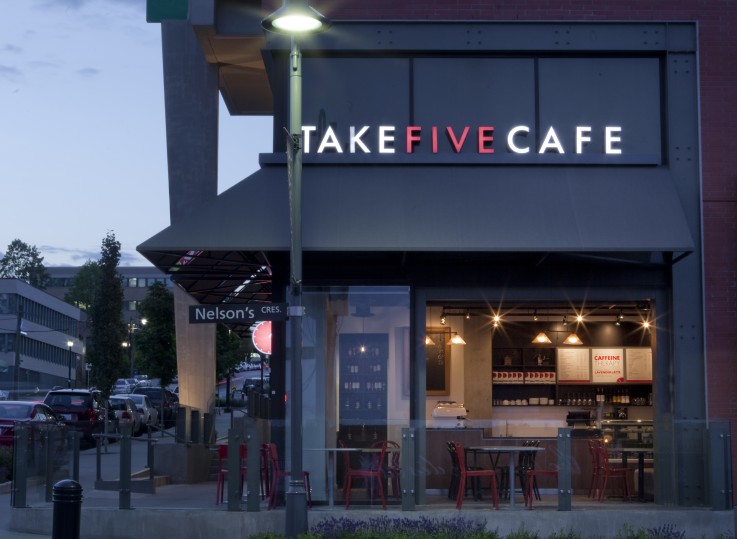 Take Five Café Retail Chain
Vancouver
Take Five Café is a coffee chain and catering company with multiple locations across Metro Vancouver, including kiosks and stand-alone commercial retail units. Boffo Building is involved in the design and construction of each location, from floorplans and layouts to signage and graphics.
Got an upcoming project?
It's easy to find out more about our full-service design and construction team. Fill out the form below, and we'll get back to you promptly.